Antique linen fabric sewing service – Light linen ensnared by needle and thread.
The variety of our antique linen fabrics is as colorful as life itself. Even though we love the different colors, patterns, sizes and shapes, we are of course happy to customize our linen fabrics and linen bags to meet special requests of our customers. Because pot and lid always have to find each other first. And so it is with table runners and tables or pillowcases and cushions.

Our sewing service allows us to create custom linen products from our antique linen fabrics, so they arrive to you exactly the way you wanted them. Pillowcases, curtains, changing pads, table runners, napkins, bench pads, bags and much more are sewn by hand according to individual measurements. With a little patience, unique pieces are created from high-quality materials that will delight generations.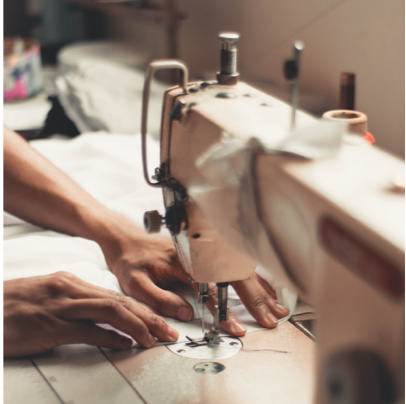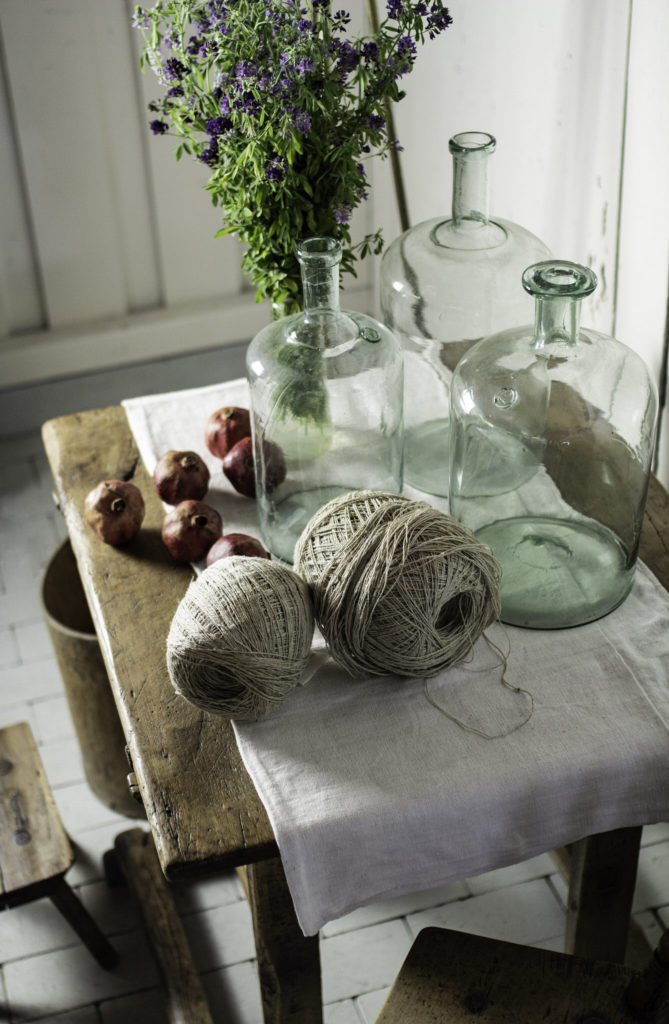 How our sewing service works
If you wish to have a customized linen product, you can easily tell us during the purchase process. For all products where sewing service is available, you will find various options in the right column of the product view to add our sewing service to your shopping cart.

There you can choose from some already created sewing services or tell us your very special wishes in the comments. The size of the initial product determines the maximum size of the final product and, of course, the maximum number of pieces. Thus, a table runner made from a linen bag can only be as long and wide as the linen bag itself.

From one piece of fabric can also sew a limited number of pillowcases. Under the sewing service selection is a field for comments by simply entering your desired size and anything else we should know. You can also still select the number of pieces, although this may also be limited by the size of the starting material.
We offer the following sewing services:
---
Linen table runner
All table runners are sewn by hand, then washed and ironed. The size of the table runner depends on that of the original product.
---
Linen placemats
From a linen bag or linen fabric create six unique placemats. These underlays are also sewn, washed and ironed by hand. The maximum size of placemats depends on the width of the fabric.
---
Linen pillowcases
We are also happy to sew custom pillowcases from linen fabrics. In the process, a high-quality zipper is attached. The maximum size of a pillowcase is 55.8 cm by 55.8 cm. Simply specify your desired dimensions in the comments field during the ordering process.
---
Linen napkins
For those who want unique table decorations, we are happy to sew a set of linen napkins. A whole six pieces are sewn from a linen bag or linen fabric. The maximum size, in turn, depends on the width of the fabric.
---
Linen bags
Linen bags are not only robust but also sustainable. Like the pillows, the maximum size of the bag is 55.8 cm by 55.8 cm. Width, height, depth and handle length can be customized as desired and must simply be noted in the comments field when ordering.
---
Linen changing mat
If you are looking for changing pads that are not only gentle on baby's bottom but also natural, you can have a pad sewn from our high quality linen fabrics. The maximum size can be up to 75 cm by 85 cm. The desired dimensions are entered in the annotation field.
---
Special requests
Of course, we are also ready to implement special wishes. Linen fabrics are so versatile that you can sew almost anything from them. So if you have a special request, contact us by email or write your request and preferred contact information in the notes field and we will get back to you. Almost every wish can be realized.
Prices for sewing service
Table runner: € 18.00
Pillowcase: € 20.00
placemats (6 pieces): € 58.00
Napkins (6 pieces): € 58.00
Carrying bag: € 48.00
Changing mat: € 48.00
Special requests: Price upon request and depending on the effort involved